Meet a few of the first-year students who have joined the Lafayette College family Twitter
Lafayette's Class of 2026 shares a unique distinction—graduating the same year the College will celebrate its bicentennial anniversary. But that's not all that makes this class of incoming students unique.
They are the best of the best. More than 10,500 students applied to Lafayette—the largest applicant pool in the College's history, marking a 27% increase over fall 2021. In August, 757 new Leopards joined the Lafayette family, a quarter of which identify as domestic students of color.
They are building a foundation. 84 members of the Class of 2026 are first-generation college students, and will be the first in their families to graduate from a four-year college. Nine students are coming in as ROTC members.
They are honoring tradition. Another 84 first-years are following in the paw prints of a family member who attended Lafayette.
They are bringing their talents and knowledge. 61 international students represent 44 different countries of citizenship. The first-year class also has representation from 35 states and U.S. territories. 
Meet a few members of the Class of 2026 who are calling Lafayette home these next four years.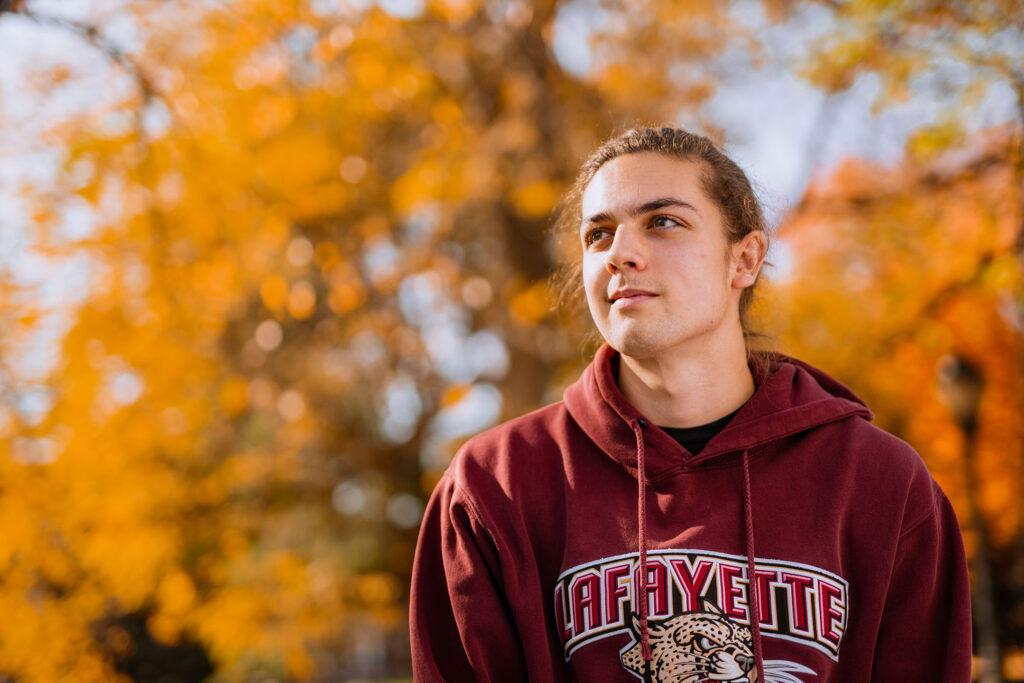 Treyton Messman '26
Hometown: Bethlehem, Pa.
Potential major: Engineering
Classes: Intro to Engineering, Calculus 2, Chemistry 108, and FYS "Sustainable Cities" 
Campus life: Rugby team, LOST (Lafayette Outdoor Society)
Awesomeness factor: This legacy student and Eagle Scout is following in the footsteps of brother Callen Messman '21. "I chose Lafayette because it is a small school with a top tier education, especially in engineering," Treyton Messman says. "I knew my brother had a great time here, really enjoyed the community and all the opportunities Lafayette presented, so I knew it would be a good fit for me as well."
In high school, Messman balanced playing four varsity sports (soccer, basketball, baseball, and cross country) with his own mowing, landscaping, and snow removal business—all while maintaining a 4.0 GPA. Before his sophomore year Messman tore his meniscus, which necessitated surgery and a lengthy recovery before he could get back to his active lifestyle. He persevered in time to join his team for its first basketball game, only to retear his meniscus two weeks later. Another surgery and another long recovery saw Messman ready to go for preseason baseball. One week into his 2020 baseball season, COVID-19 struck, effectively ending his season. Messman says it was a struggle to handle two injuries, two surgeries, a long road to recovery, and rebuilding strength, but he is proud to have overcome it.
He is ready for his next challenge at Lafayette and eager to apply his critical thinking skills toward civil engineering or mechanical engineering. "My goal while at Lafayette is to become a better and more well-rounded individual, and to find what I am passionate about and pursue that. I also hope to find more time in my busy schedule to volunteer either at Lafayette or in Easton.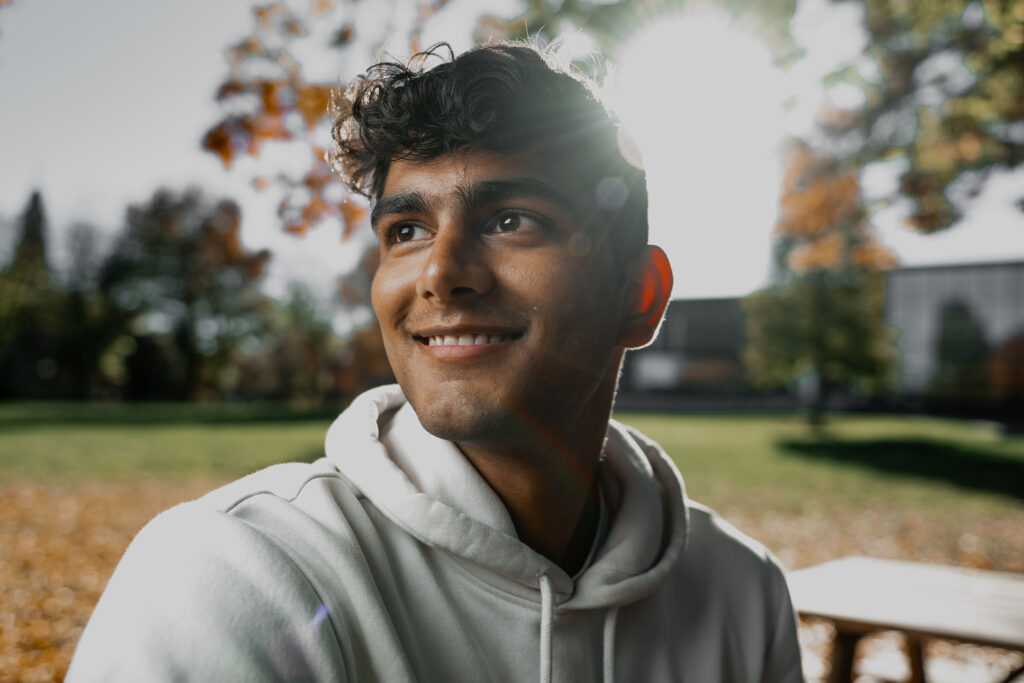 Kashif Chopra '26
Hometown: Gurgaon, India
Potential major: Electrical and computer engineering 
Classes: Calculus I, Chemistry I, Introduction to Engineering, FYS "The Native Past in Lehigh Valley Public Memory" 
Campus life: D.Y.E.R. Fellow, LaFarm, International Student Association, IEEE, Motorsports Club, soccer, Mock Trial/Forensics, South Asian Student Association
Awesomeness factor: Since childhood, Chopra has always tried his hand at different activities—from playing the tabla (Indian hand drum) to soccer, sculpture, and model U.N. At the same time, he's always been enamored by technology and loved the design process involved in bringing a new gadget to market. "I relish the idea of innovating solutions for various purposes, and engineering allows for just that," he says. "Lafayette allows one to thoroughly engage in engineering while simultaneously promoting the exploration of subject areas completely different from one's major." The small class sizes allow for an educational experience that is much more personal and intimate than in larger schools. Another big draw for him was engaging in learning design thinking and entrepreneurship through the D.Y.E.R. fellowship.
Slightly introverted as a child, Chopra says being surrounded by more outgoing people (such as his sister and school friends) has allowed him to develop into a more outgoing person who wants to try new things and is excited about new activities.
"I also learned how to do this by taking part in leadership programs and holding leadership positions in school such as student government and model United Nations," he says. "Moreover, I became the head of the RoundSquare Committee in our school. RoundSquare is a global network of schools across over 40 countries that hosts numerous events and projects. By attending RoundSquare conferences (they were mostly online in 2020 and 2021), I learned how to converse and empathize with people having backgrounds different from mine. This greatly helped in improving my interpersonal skills."
Chopra lists several career highlights, including winning the Student Icon Award at his school (given to one student from the graduating batch of 180 children for displaying overall excellence in academics and extracurriculars, as well as integrity and character), being named a D.Y.E.R. and Marquis fellow, a valedictorian in high school, and attaining the All India Rank 2 in the national board exam taken by children all across the country.
"My goal over here is to best utilize all the opportunities available for students in Lafayette and in Easton. Lafayette offers depth in my major despite being a small liberal arts school, and I wish to leverage this in order to make meaningful connections and make a tangible impact on the campus community," he says. "I'd like to work on hands-on design projects too. I also want to explore new fields that I have never explored before, including different clubs and organizations. At the same time, I wish to leverage the wonderful facilities present on campus to the maximum extent, such as the sporting facilities for table tennis, soccer, and badminton. I also wish to increase my knowledge in the field of music and arts at some point."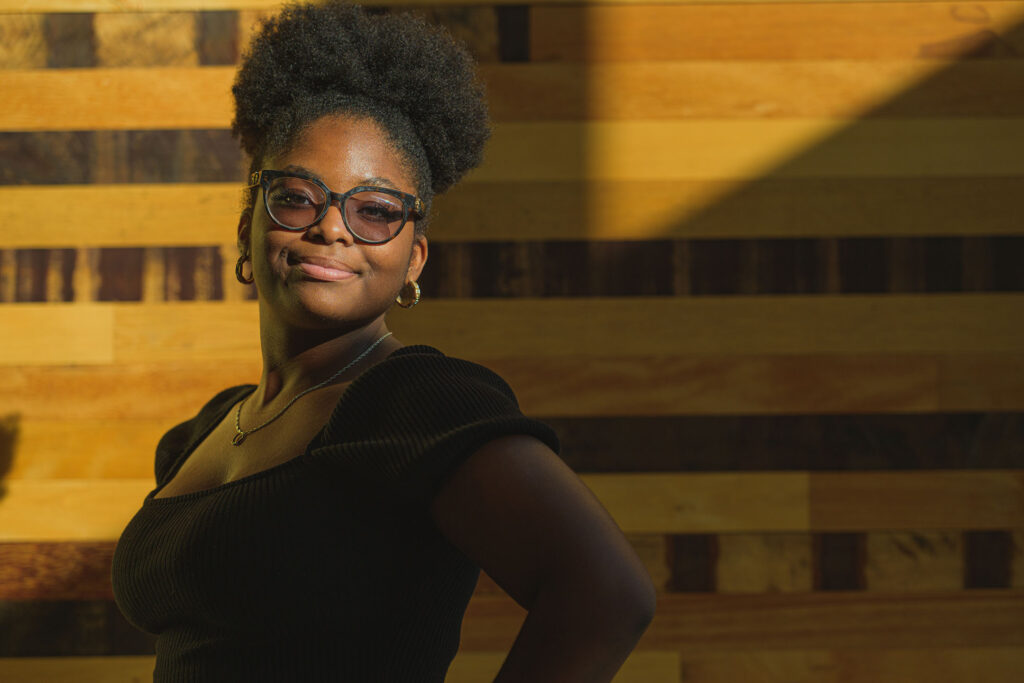 Akeena Hall '26
Hometown: The Bronx, New York 
Potential major: Computer science 
Classes: The Black Experience, Modeling and Differential Calculus, Intro to Sociology, FYS "Technological Citizenship" 
Campus life: D.Y.E.R Fellow, Posse Scholar, Women's Rugby Club, NSBE General Body, Women in Computing Club 
Awesomeness factor: As a first-generation college student, Hall had to overcome imposter syndrome when applying to colleges and universities. Although still facing imposter syndrome while attending Lafayette, she leans on the support she receives from the communities she's involved in—Posse, D.Y.E.R. fellowship, and her Google Code Next program—"to remind myself that I belong." 
"I knew Lafayette was the place for me when I visited in my freshman year of high school; I wore my Lafayette sweater that I got from the gift store all throughout high school," she says. "When I applied for the Posse Foundation scholarship and received it, that's when I knew it was truly meant to be. I knew that choosing to attend Lafayette meant taking advantage of its great computer science department and meeting some of the best people."
Interested in the interdisciplinary practice of computer science and social activism, some of her favorite projects this year include creating a documentary that highlights the history of The Bronx and the impacts of redlining and gentrification on her neighborhood; facilitating a business partnership with a worldwide engineering consultant company for her high school to work to bridge the opportunity gap between students of color and workforce opportunities; and here at Lafayette, networking with other individuals passionate about STEM education. "I want to take full advantage of the resources and opportunities that Lafayette has to offer," Hall says. "I want to be able to jump-start my entrepreneurial venture, focusing on food security and/or technology education access for marginalized communities. I also want to grow the skill set needed to have a successful career in computer science."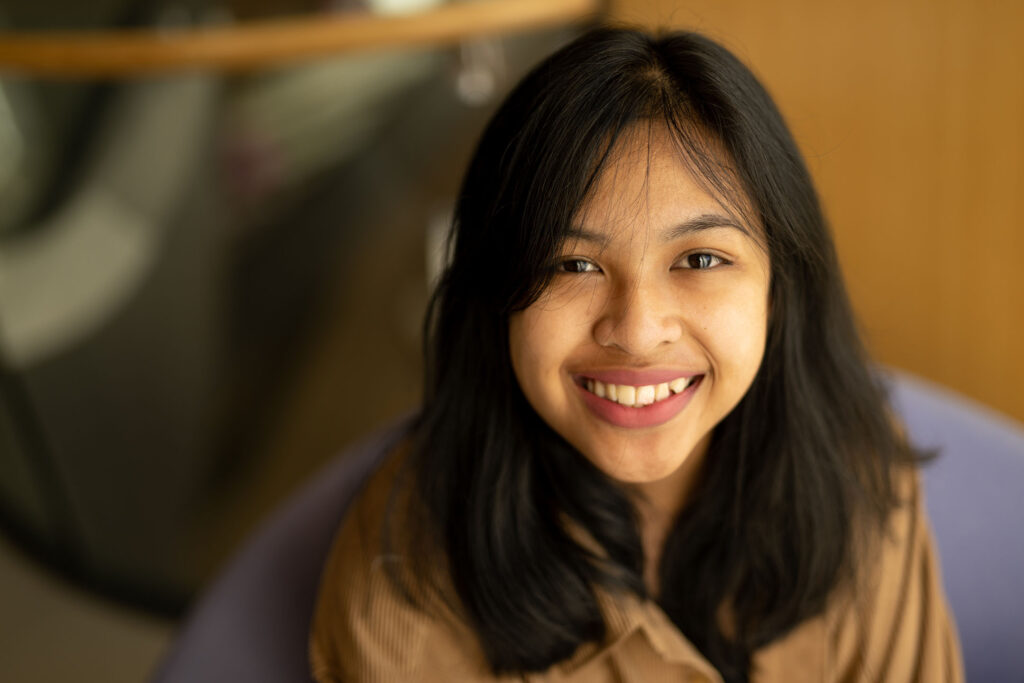 Landy Rakotoarison '26
Hometown: Antananarivo, Madagascar
Potential major: Computer science with a minor in data science, or a self-designed major in business analytics
Classes: Differential Calculus and Economic Modeling, Introduction to Computational Science, Principles of Education, Alleviate Poverty and Unfreedoms, and Concert Choir
Campus life: D.Y.E.R. Fellow, International Students Association member, French conversation partner for Language Lab, Lafayette College Engineers Without Borders member
Awesomeness factor: Computer classes may not have been offered at her high school, but that didn't stop Rakotoarison from learning how to code. The Madagascar native used online resources like Khan Academy to teach herself how to build websites—even though she "only had access to computers and the internet for a few hours per week, and we did not have stable electricity," she says. By the time she was a high school graduate, Rakotoarison had participated in international robotics competitions, interned as a web developer, and taken part in other data science-related projects. During her gap year, she was selected as a volunteer mentor for the national robotics team, and served as a mentor and program manager at STEM for Good, where she helped teach children and undergraduate students about the basics of programming. 
Rakotoarison first learned of Lafayette in 2017 through the Lafayette Initiative for Malagasy Education (LIME) program at her high school, Lycée Andohalo in Antananarivo. Over the course of her high school career and gap year, she became fluent in English and French, and conversational in Spanish and Korean. As a senior, she worked as a mentor for her school's English club. "Without LIME, I wouldn't have been able to pursue higher education or speak English," says Rakotoarison, who earned a LIME Scholarship. "Exchanging with Lafayette students when I was in high school built my confidence in what I could accomplish." 
Rakotoarison was a member of Generation Citizen Club (which helped students engage in various organizations), and she is a D.Y.E.R. Fellow at Lafayette. Rakotoarison also co-founded a small business in 2019 called Madagascar Biogas Technology, which focused on minimizing use of charcoal and developing affordable, environment-friendly energy alternatives, and she's worked with NGOs as well as the Ministry of Environment of Madagascar. In 2021, Rakotoarison was selected as one of 50 young entrepreneurs in Africa for the prestigious Anzisha Prize.   
"What helped me be who I am today is the thirst for knowledge, and the discipline to learn something by myself," Rakotoarison says. "I am beyond excited to be in a place where I have access to resources, which I can use to make an even greater impact."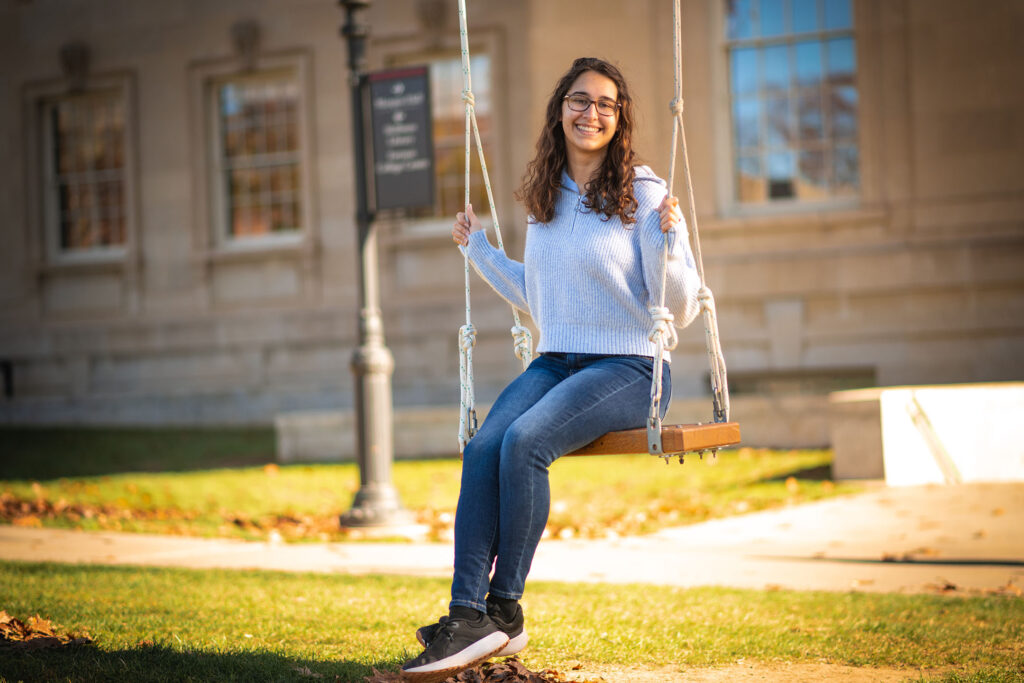 Elise Trocker '26
Hometown: La Cañada, Calif.
Potential majors: Psychology, religious studies
Classes: Introduction to Psychology, Jewish Humor, Religion, Myth, and Fantasy, Intermediate Spanish 
Campus life: Member of OUT Lafayette, Happiness Club, Yarn Club, Hillel Society, Psychology Club, Pre-Orientation Service Program (POSP), and Spiritual Wellness x SKY
Awesomeness factor: For Trocker, it's all about the human connection. Throughout most of her high school career, the California native served as a volunteer at Teen Line national crisis hotline, where she used her voice to offer anonymous teenage callers support, empathy, understanding, and hope during their critical moments of need. Her ability to connect with callers and skillfully handle difficult situations earned Trocker the nonprofit's "Outstanding Listener Award," and she was interviewed by CNN about her volunteer work. 
Trocker was an advocate for teen mental health at her high school as well: As a member of her school's Peer Support program, she worked alongside faculty and the student government to plan wellness activities and raise awareness of issues impacting students' mental health. Trocker also was president of the Creative Writing Club, which "was a fun space that brought together people of all grades and backgrounds, gave us time to collaborate creatively, and was a nonjudgmental space where we could decompress." 
In addition to having a passion for providing peer support, Trocker was a competitive swimmer (she set a school record in her first year in high school for the 200 medley, and another in her senior year for the 400 freestyle), and she has been practicing trapeze and aerial art for six years. She's traveled to 38 states and 11 countries, and one of her favorite things to do is attend live concerts. "The energy of performances always draws me in, and I love the connections I make and the people I meet," she says.
Your email address will not be published.
You may use basic HTML tags and attributes.