Internships for college students can be pivotal in steering and developing a young person's career.
Oprah's career was launched after she worked as a summer intern at a television station in Nashville.
Mindy Kaling wrote her way into an internship in the writer's room at "Late Night with Conan O'Brien." And Donald Glover was an intern as part of Comedy Central's Summer School program. As valuable as internships can be, such opportunities are not always easy to find. That's where experts such as Joseph Lyons can support college students who are seeking internships to jump-start their professional careers. After serving as Virginia State University's associate director of career services for more than 35 years, Mr. Lyons has helped thousands of students find internships, witnessing first-hand how these programs shape a student's career path.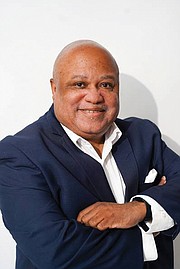 Mr. Lyons
"A number of students who have served in an internship capacity will be offered a full-time job as they enter the senior year before they graduate," said Mr. Lyons. "I have observed supervisors and mentors, assigned to student interns, coach the intern into identifying and achieving career goals."
Virginia State currently has more than 300 students serving as interns in various industries.
Jeremey Johnson is one of those students Mr. Lyons has helped. Mr. Johnson brought a strong academic record to his internship in career services, which is where he met Mr. Lyons.
A rising VSU senior and computer engineering major, Mr. Johnson was noticed by multiple Fortune 500 companies, including Honda North America. The company, with operations in Canada, Mexico, and the United States, was impressed by his background and academic performance.
Honda selected Mr. Johnson for a paid 2022 summer co-op position. He worked onsite at one of the company's South Carolina locations for 10 weeks.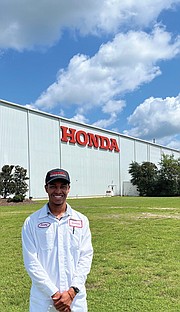 At Honda, Mr. Johnson was immediately thrown into the fire on his first day when asked to reconfigure Honda's scanners for its manufacturing processors. He had no ex- perience completing such a task, but quickly embraced the process and got to work.
His main objective was to finish the project during the two-month internship program. Not only did Mr. Johnson complete the task, he performed so well he was nominated and named as Honda's runner-up for its 2022 summer co-op.
Johnson was the only intern from each coast to be nominated.
Being integrated into Honda's daily work processes increased Mr. Johnson's confidence to the extent that he believes he will be ready to work for the company full time when he graduates.
"I would enjoy it, because I know a lot about the scanners now, I know a lot about the processors, and I pretty much understand what somebody wants when they are talking to me," he said. "As far as my knowledge base and willingness to learn and excel in that field, no doubt about it, I wouldn't mind doing it."
Mr. Johnson's ability to learn and grow in a real-world work environment shows the importance and benefits these oppor- tunities can have for college students and graduates.
Many student internships also present opportunities for travel or living in new locations.
Patrick Powe, a rising senior at Jackson State University, traveled more than 900 miles from Jackson, Miss., to Petersburg to work for the Greening Youth Foundation this summer.
The 21-year-old industrial technology major said he is not sure what path his career will follow. However, Mr. Powe said he believes his experience interacting with and serving youths, while also developing youth-oriented programs was worth the travel and time away from home.
"This is a career path I didn't even know about before but I believe this will definitely help me if I decide to go this route," he said.
Although learning and working in new environments can sometimes be intimidating, it often leads to important connections with new people.
For many students, such connections can be vital in opening doors and learning lessons not only for future employment, but also for the classroom this fall.
Donald J. Adams Jr. was a Richmond Free Press intern this summer. He has returned to St. Joseph's University for his junior year. Holly Rodriguez contributed to this article.